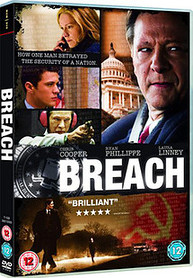 Breach sadly didn't find the audiences it deserved at the cinema but is a well crafted and compelling spy drama.
It is based on the real life story of Eric O'Neill, a young FBI agent working under Robert Hanssen, who was an agent convicted of spying for the Russians in 2001.
Starring Ryan Phillippe as O'Neill, Chris Cooper as Hanssen and co-starring Laura Linney, Dennis Haysbert, Caroline Dhavernas and Kathleen Quinlan it was written and directed by Billy Ray, who also made the similarly under-rated Shattered Glass in 2003.
The highlight here is the terrific central performance from Chris Cooper, who gives a haunting turn as the enigmatic traitor. He skilfully teases out the contradictions at the heart of Hanssen's life: why would a religious patriot who railed against the godless Soviet Union then sell secrets to them?
In certain respects, this is the polar opposite of the Bourne and Bond spy movies. Instead of gunfights and chases, it focuses of the sobre reality of law enforcement –  a world where beaureacratic infighting slowly grinds agents down. A pre-9/11 environment where a clever man like Hanssen could deceive his unwitting colleagues.
The story itself is quite incredible – the film opens with real footage of then Attorney General John Ashcroft describing a "serious breach in the security of the United States". It was was one of the most embarrassing episodes in the history of US intelligence and Hanssen only escaped execution by co-operating with the FBI. He is currently serving a life sentence in solitary confinement for 23 hours a day at the Supermax Federal Penitentiary in Colorado.
The extras aren't extensive but have some good insights into the events surrounding the film. They include:
A commentary by writer/director Billy Ray and Eric O'Neill
8 deleted scenes and alternate scenes with optional commentary by Billy Ray and editor Jeffrey Ford
Featurette: Breaching the Truth (10 mins 49 secs)
Featurette: Anatomy of a Character Brought to You by Volkswagon (6 mins 47 secs)
The Mole: A PBS programme from 2001 about Hanssen's career and arrest (19 mins 21 secs)
Check out the trailer here:
> Buy Breach on DVD from Amazon UK
> Official site for Breach
> Reviews of the film at Metacritic
> Find out more about Robert Hanssen at Wikipedia