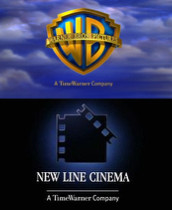 After weeks of speculation details have emerged that New Line Cinema will be absorbed into Warner Bros.
Although it was already part of the Time Warner empire, the studio will cease to function as a separate entity and now effectively become a label of Warner Bros.
Founder and chairman Bob Shaye and co-chairman Michael Lynne are stepping down.
Variety report under the snappy headline 'New Line in Warners' Corner':
The colorful 40-year run of New Line is coming to an abrupt end, costing the jobs of most of the company's 600 staffers.

The company — home to "The Lord of the Rings," "Austin Powers," "Friday the 13th," "A Nightmare on Elm Street," "Rush Hour," "The Mask" and "Boogie Nights" — will be folded into Warner Bros. as a small genre arm.

But toppers Bob Shaye, who founded the company in his New York apartment, and Michael Lynne will not be part of the package.

No exact numbers have been divulged for how many of New Line's staffers will stay but the surviving entity will be a shell of its former self, refocusing on the horror, comedy and urban genre pics that helped put it on the map decades ago. Employees will attend meetings today in Los Angeles and New York to discuss future plans.

Time Warner said New Line would continue to have development, marketing, business affairs and some distribution operations but those will be cut severely. And New Line films will go out through Warner Bros. pipes after this weekend's "Semi-Pro."

Warner will likely make ample use of completed New Line pics since the usually prolific studio has dated only three pics for 2009.
This all comes just over four years since the huge success of the Lord of the Rings trilogy.
So, what went wrong?
Well, they haven't really had a sizeable hit since then (with Wedding Crashers and Hairspray being notable exceptions) and even sequels like Rush Hour 3 got bogged down in unnecessary costs.
Whilst the Rings trilogy was a huge gamble that paid incredible riches, it also possibly created unrealistic expectations. Added to that, the legal row between Peter Jackson and the studio kept The Hobbit in limbo, which is their most valuable asset.
Futhermore, their practice of selling off the foriegn rights to their films backfired when the expensive post-Rings tentpole The Golden Compass flopped in the US (grosssing just $70 million dollars) but went on to become a hit internationally (grossing $260 million in foreign markets).
It is noticeable that Time Warner's President and Chief Executive Officer Jeff Bewkes has said that they now want to keep hold of foreign rights in the official press release announcing the move:
Given the trend toward fewer movie releases, New Line and Warner Bros. will now have more complementary release slates, with New Line focusing on genres that have been its strength.

With the growing importance of international revenues, it makes sense for New Line to retain its international film rights and to exploit them through Warner Bros.' global distribution infrastructure.

We can also take better advantage of digital distribution platforms by combining our studios.

These changes will enhance our revenue opportunities and drive dramatic cost efficiencies and higher margins at New Line.
There is no doubt that the studio had a remarkable journey from a New York indie in the 1960s distributing Reefer Madness to college campuses, the films of John Waters, the Nightmare on Elm Street series, Teenage Mutant Ninja Turtles (the success that really propelled them into the major league), to the studio that has hits like the Austin Powers franchise and the Lord of the Rings trilogy.
But despite their commercial legacy and their preference for genre films, they should also be remembered as the champion of some daring and brilliant films such as The Player,  Glengarry Glen Ross, Se7en, Boogie Nights, Magnolia, About Schmidt, A History of Violence, The New World and Little Children.
Check out this video of Bob Shaye and Michael Lynne talking to Charlie Rose last year about the studio:
[googlevideo]http://video.google.ca/videoplay?docid=-1469795405827875263[/googlevideo]
> Check out the Variety report in full
> Official press release announcing the move from Time Warner
> Find out more about New Line at Wikipedia