This week we review American Gangster, Beowulf and Brick Lane.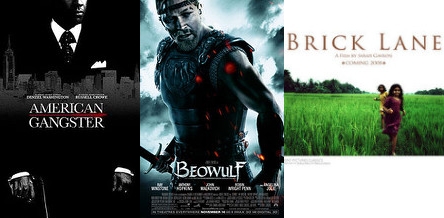 American Gangster is the true life story of New York crime boss Frank Lucas (Denzel Washington) who created a drug empire in the early 70s by importing cheap heroin direct from Asia. Directed by Ridley Scott it explores how a New York cop Richie Roberts (Russell Crowe) discovered and exposed his operation.
Beowulf is the big budget animated version of the old English poem about a medieval warrior (Ray Winstone) who travels to a kingdom plagued by a monster named Grendel. When Beowulf defeats it, he has to deal with the mother (Angelina Jolie), who is an altogether different proposition. Using motion capture technology, director Robert Zemeckis creates a 3-D version of the tale.
Brick Lane is the adaptation of Monica Ali's best selling book about a Bangladeshi woman (Tannishtha Chatterjee) who settles in East London with a loveless marriage to her husband (Satish Kaushik). Feeling isolated and trapped she has an affair with a younger man (Christopher Simpson). Directed by Sarah Gavron.
[audio:http://www.filmdetail.com/podcast/get.php?fla=podcast-2007-11-16-90996.mp3]
Download and subscribe to the review podcast via iTunes by clicking on the image below:
> Download this review as an MP3 file
> Get the local showtimes via Google Movies
> Check out other reviews of these films at Metacritic