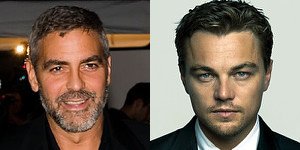 George Clooney and Leonardo DiCaprio are to team up for a political drama called Farragut North.
It will be based on Howard Dean's grass roots campaign for the 2004 Presidential election.
Reuters report:
George Clooney is in negotiations to direct Leonardo DiCaprio in "Farragut North," a feature adaptation of an upcoming Broadway play loosely based on Howard Dean's 2004 presidential election campaign.

Both would also produce the Warner Bros. film.

Named after the Washington Metro station located near many lobbyists' offices, the play follows a young, idealistic communications director who works for an inspiring, though unorthodox, presidential candidate.

During the campaign, his career is done in by more seasoned politicos who thrive on poisonous partisan politics, dirty tricks and back-stabbing.

Clooney would produce with his Smoke House shingle partner, Grant Heslov, while DiCaprio would produce via his Appian Way. Both are based at Warners.
The play was written by Beau Willimon, who actually worked on the Dean campaign. The playwright will adapt the screenplay himself. Jake Gyllenhaal was reported to have participated in a reading of the play earlier this year.
Mike Nichols is slated to direct the Broadway production, which is set to open next Autumn, on the eve of the 2008 presidential elections.
Nichols has covered similar ground before, as he directed Primary Colors in 1998 – a  film based on Joe Klein's thinly veiled look at Bill Clinton's 1992 election campaign.
> Check out the story at Reuters
> Variety also have more on the story
> Find out more about the actual Farragut North metro station in Washington via Wikipedia