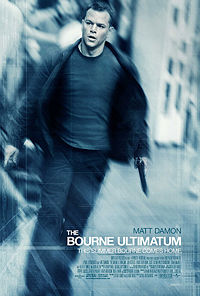 CIA trained assassin Jason Bourne (Matt Damon) is back in the third installment of the Bourne series in The Bourne Ultimatum.
Also returning is director Paul Greengrass who gave the last film (The Bourne Supremacy in 2004) such a distinctive look and feel.
This one sees all hell break loose when a journalist uncovers a wider CIA black ops program named Blackbriar.
Bourne comes out of hiding to find out more and soon becomes involved in a battle with the very people who made him into a killer.
Joan Allen, Julia Stiles, Paddy Considine and David Strathairn co-star.
Listen to our review here:
[audio:http://www.filmdetail.com/podcast/get.php?fla=podcast-2007-08-17-15514.mp3]
Download the review as a podcast via iTunes:

The Bourne Ultimatum is out now at cinemas in the UK
> Download the review as an MP3 file
> Official site for The Bourne Ultimatum
> Read reviews of The Bourne Ultimatum at Metacritic
> Find out more about the series at Wikipedia
> Check out some photos I took whilst the film was shooting in London back in January