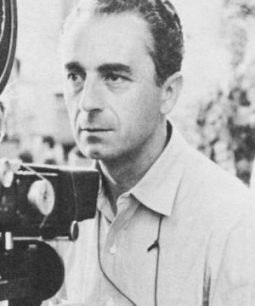 Just a day after Ingmar Bergman passing, news comes through that another cinematic legend is gone.
The great Michelangelo Antonioni has died in Rome aged 94.
Aleesandro Rizzo of the AP reports:
Italian director Michelangelo Antonioni, whose depiction of alienation made him a symbol of art-house cinema with movies such as "Blow-Up" and "L'Avventura," has died, officials and news reports said Tuesday. He was 94.

The ANSA news agency said that Antonioni died at his home on Monday evening.
"With Antonioni dies not only one of the greatest directors but also a master of modernity," Rome Mayor Walter Veltroni said in a statement.

Antonioni depicted alienation in the modern world through sparse dialogue and long takes. Along with Federico Fellini, he helped turn post-war Italian film away from the Neorealism movement and toward a personal cinema of imagination.

In 1995, Hollywood honored his career work — about 25 films and several screenplays — with a special Oscar for lifetime achievement. By then Antonioni was a physically frail but mentally sharp 82, unable to speak but a few words because of a stroke but still translating his vision into film. The Oscar was stolen from Antonioni's home in 1996, together with several other film prizes.

His slow-moving camera never became synonymous with box-office success, but some of his movies such "Blow-Up," "Red Desert" and "The Passenger" reached enduring fame.

His exploration of such intellectual themes as alienation and existential malaise led Halliwell's Film Guide to say that "L'Avventura," Antonioni's first critical success, made him "a hero of the highbrows."
If you haven't seen L'Avventura, Red Desert, Blow Up and The Passenger I would highly recommend them. Another film of interest – but relatively overlooked – is his beautiful segment to Beyond The Clouds, the 1995 film he made in collaboration with Wim Wenders.
It turns out he died on the same day as Bergman – making July 30th 2007 an especially sad day for cinema.
> The full AP report of his death
> IMDb entry for Micheangelo Antonioni
> A profile of Antonioni by James Brown at Senses of Cinema
> Andrew Pulver at The Guardian on some of Antonioni's best scenes